Residential Retaining Walls
No matter what kind of soil erosion or steeply sloped nightmare you may have on your property, a retaining wall by Wall Pros can correct it, beautifully. Together, we will examine material choices that will best enhance your surroundings and then design a solution that you will love!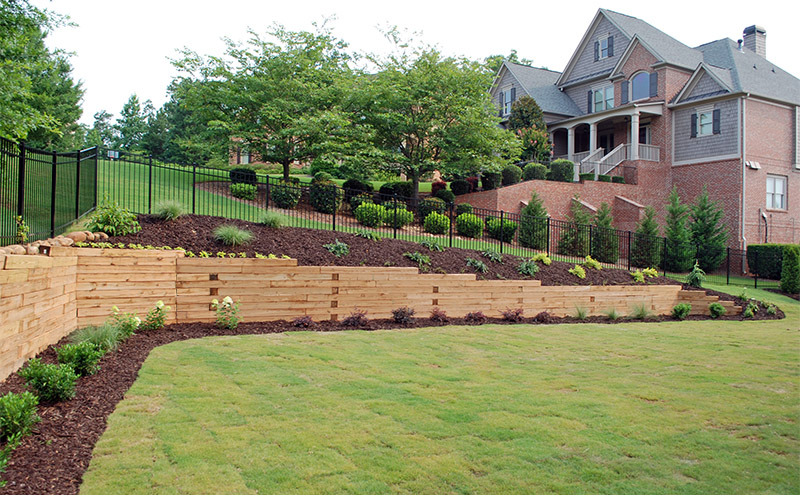 Budgetary concerns aside, choosing the right material for your new or replacement retaining wall can be as important as choosing the right company to build it.
We can help you match a material to a hardscape feature or even driveway detail as with this brick apron. Even the most eclectic designs are achievable through concrete masonry retaining walls. But be aware that every county and city have building height restrictions for each type of retaining wall. Please contact us to explore your property's range of options.
Let's face it, retaining walls are not the most exciting way to spend money. This simple fact prompts many homeowners into choosing the builder with the cheapest estimate. But there are some important facts to consider before taking the cheapest bid.
Retaining wall builders are not all the same!
There are professional retaining wall builders who follow the best construction practices by engaging an engineer for the design, and obtaining the proper permitting for the job. The price will be higher, but the wall will be safe and it will pass inspection should you sell the property.
But there are also contractors and even landscapers who design walls using a 3D CAD computer design program instead of an engineer. Whenever possible they will avoid the permitting process. While this costs less money, the long-term consequences can be dire. Because so many of these retaining walls without engineering and permitting have failed over the past two years, new regulations and building restrictions are now being enforced in most Georgia cities and counties.
Retaining Wall Failures Usher New Regulations
As residential and commercial property values deflated over the past decade, some homeowners, subdivision developers, HOA's and even government officials chose the cheapest retaining wall bid, instead of the best builder. In some cases, no engineering or construction standards were being used at all! Scores of retaining wall failures later, we are beginning to see regulations requiring mandatory permitting and engineering for any wall over three feet in height. Ongoing site visits are also being employed by the county or city engineer to verify each stage of the wall is being done properly. Remember to verify that permitting and engineering are included as line items when comparing estimates from retaining wall contractors.